Holley Scaffold is a full-service scaffolding provider based in Bixby, OK. Our company offers a full line of scaffolding and Hydro-Mobiles. We are here to meet all your scaffolding needs, Whether you are a large contractor renovating a commercial building or a homeowner working on a home remodeling project. We are known for our integrity of work, excellent customer service and fair pricing. Backed by years of experience as well as skilled professionals, Holley Scaffold has set the standard in the scaffolding industry. We provide timely response to service requests. Please feel free to call us or fill out the contact form to send us a message! We look forward to meeting you.
Family Bio:
Holley Scaffold LLC is a family owned and operated business based locally here in Oklahoma. Happily married for over 17 years, we are proud to be raising our three sons here in this beautiful state. Active and supportive of our amazing community, we pride ourselves in building long lasting relationships with customers near and far.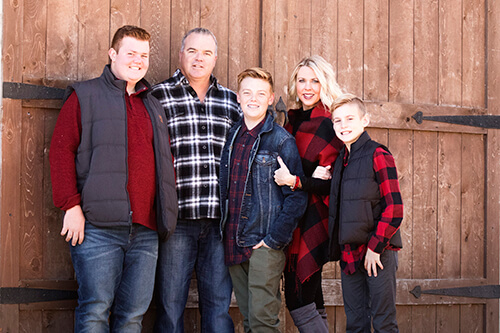 Courtney Burchett is our Sales Manager. She grew up working alongside her dad who owns a construction company in Greenwood, AR. He taught her the ins and outs of construction and her dad instilled her strong work ethic in her at a very young age. She has a true respect for the industry and prioritizes customer relationships and satisfaction. She married her wonderful husband in July 2018. Courtney has a three-year-old son name Stetson. They have two dogs, two cats, a bunny and fish.
The number of fish change frequently…  Courtney has been in B2B sales and marketing for 8 years. She also has been coaching dance for 8 years as well. She coached at Bixby High School for 8 years and owns her own competitive dance teams called JC Dance. Many of the routines that she choreographed have gone viral including the Stormtrooper Hip Hop Dance that Bixby performed in 2015. Her routines have been invited to perform at various events such as OU Basketball Halftime, Alamo Bowl Pep Rally, TU Basketball Halftime, etc.